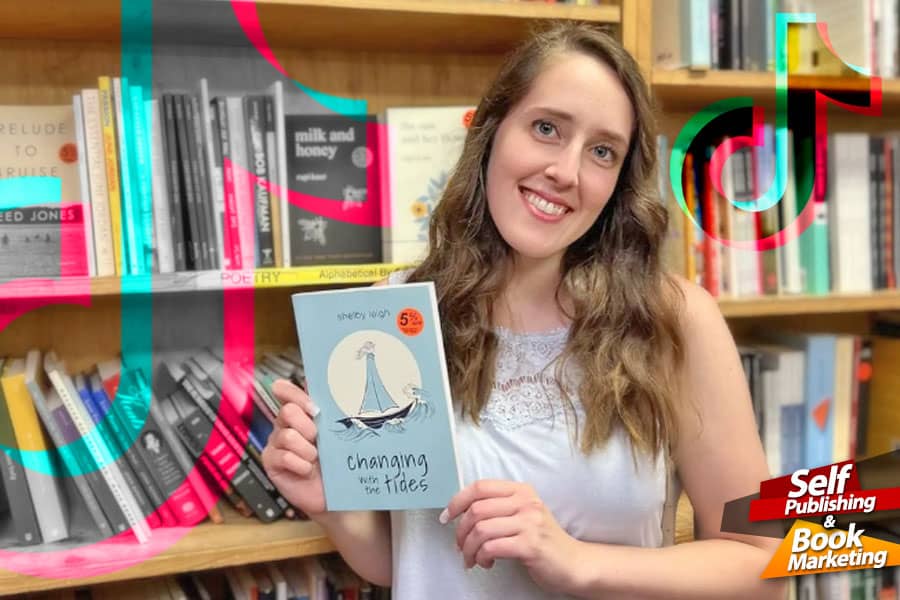 Shelby Leigh - September 15, 2022 -
5 min. read
TikTok for Authors – How to Sell Books on TikTok!
How to sell books on TikTok is a question that interests almost most authors who promote their books through social networks. Starting on a new platform is intimidating. It's scary, challenging, and nerve-wracking to learn a whole new platform, learn what works, and figure out how to connect with your readers.
After being on TikTok for 2.5 years, growing my audience to more than 400k, and selling thousands of books on the platform I've learned a thing or two about TikTok for authors and book marketing on TikTok. Plus, I work with authors to help them with TikTok, and I've learned a lot about what holds people back.
In this article, I'll share my top tips with my fellow authors on how to use TikTok for growth and book sales on the platform.
It is not too late to join, but you shouldn't wait any longer!
If you are sitting on the sidelines, thinking that TikTok might be a good fit for you, but you haven't tried it yet, it is not too late, but you shouldn't wait any longer.
Many authors think the wave of organic growth is over on TikTok, but it's not true. I joined in 2020, but my biggest growth month was in January of this year. It is not too late for you to grow either, but I recommend diving in as soon as you can. Which bring me to my next point…
Don't let the fear of video hold you back from being a part of one of the fastest-growing platforms in years.
There are over 1 billion users on TikTok, meaning your readers are on there.
Video can be intimidating to get started with if you've never done it before, but with a little practice, you'll be making videos in no time.
The important thing to remember is that TikTok is all about authentic, homemade videos.
You don't need a professional camera and setup to make a viral TikTok. In fact, TikToks that have gotten me millions of views have been filmed on my bed, with my phone, and me talking into my phone from my closet for a nice-sounding voiceover. That's it!
If you plan on doing talking videos, it can be helpful to have an outline to start with.
Practice once or twice and then go ahead and film. The nice thing about TikTok is that people are used to videos with jump cuts in them, meaning you can film a bunch of videos, one sentence at a time, and then clip them together in the app.
You don't have to do the whole video in one take—TikTok makes it easy to film multiple clips!
Content over everything.
I see a lot of authors become hyper-focused on their follower count, whose following them and if they are a part of the booktok community (BookTok = people who post about books on TikTok). But what matters most is content.
Don't waste time scrolling through new followers, blocking anyone who isn't your ideal reader, or removing followers.
Sure, there will be rude people or scammers that are worth blocking, but the main focus of your time and energy, especially as you're learning a new platform, is on consuming and making content.
Research what content is performing well, interact with readers who are reading and posting about your genre, see what other authors in your genre are up to, and brainstorm what videos you're going to make next.
You'll find it's far less time-consuming on this app!
Experiment until you find what works. Then, repurpose.
There are a few different video styles that are popular on TikTok.
The first is talking videos. Just you talking to the camera. These are often educational, how-tos, or storytimes. They are fast-paced and entertaining, and utilize the "text" feature.
Another type of video is silent videos, where there is no talking and only music. A lot of authors utilize this type to showcase their book through page flips, where they flip through the pages of their book, and overlay the video with text that entices the readers to buy the book.
Think: if I could summarize my book in a couple sentences to make someone intrigued, what would I say?
These videos should be short – 7 to 10 seconds long – and hold your audience's attention.
Another type of video is the voiceover, where people show a day in their life, or a scene, and use the voiceover feature in TikTok to narrate what's happening in the video.
And finally, there are trends. There are songs that will trend, there are video styles that will trend, and filters that trend. As you scroll through your TikTok feed, you may notice a song that's being used often, or that people are using a filter in TikTok.
If you can make it fit for your book, it can be great to hop on these trends. However, this shouldn't be your main focus.
Using audio that your readers enjoy (hint: look at what readers of your genre are using for their music!) is key to attracting those readers. Trends are fun sometimes, but shouldn't make up your whole strategy.
Once you've tried out these video styles, stick to what's working for you and repurpose.
New people will see your video every single time so if you post a video that goes viral (or does well!) and you never share it again, you're doing yourself a disservice.
Look at what's worked well for you in the past (gotten you the most views or book sales) and repeat them, or do similar videos often.
The key is to record from your phone rather than in the TikTok app (unless you're using one of their tools like Greenscreen) so that way you have the original video in your phone to reuse again, without the TikTok watermark.
Plus, then you can change up the song or the text on the video, to experiment and see what works best for that particular video.
Here's how to actually get book sales.
TikTok users are fast buyers. They want to know the name of the book and where to get it, so when they're ready to buy, they can go do it that moment. That's why it's crucial that you're very clear about the name of the book and where to get it.
In any book promotional video, pin a comment (which you can do by leaving a comment, and then holding down on it and selecting "pin comment") stating the book title and where to buy it.
Don't put a direct link or say link in bio. Say something like "available on amazon."
Even if you think it's clear because the book cover is in the video, or the caption, people will miss it.
Make sure it's easy to find out from your profile as well. Your bio should state your genre/who you write for, and a call to action to buy your books should be in your bio.
You can't have a link in your bio until 1000 followers, but until then, you can connect your Instagram account (through the "Edit Profile" option) and put the name of the book clearly in your bio.
Be consistent.
We've all heard this before in social media marketing, but it's true. TikTok for authors is like other social platforms.
You don't have to post 5 times a day if you don't want to, and especially if the content isn't engaging and well-made! It's better to post 1 good video a day than 5 "meh" videos per day.
Different things work for everyone but don't get overwhelmed if you can't keep up with multiple times a day!
As long as you stay consistent, engage with other readers in your genre by commenting and supporting their posts, create new content that your readers will enjoy on a regular basis (and don't disappear for weeks at a time!) you'll be all set to grow your audience and use TikTok to sell your book.
If you want to dive deeper into the platform and how to use it to sell your book, check out the Book Sales on BookTok Guide.  You'll be a TikTok master in no time!
If you liked this article you might also like:
• Instagram for Authors. Simple Secrets to Rock Your Instagram Presence.
• Amazon Author Central – How to Setup Your Author Page on Amazon!
• The Book Marketplace Has Changed. Make Your Book Available From All the Online Retailers!
• The Levels of Writing and Editing Explained Once and for All
• Why First-Time Authors Need an Editor!
• Book Marketers Secrets – 7 Secrets of Top Book Marketers!
• Self-Publishing Success Stories. Secrets of Million Dollar Self-Publishers!
• Never Judge a Book By Its Cover! – Are You Really Sure?
• Business Plan for Authors. Do Authors Need a Business Plan?
• Creative Book Marketing Ideas for Selling Your Books!