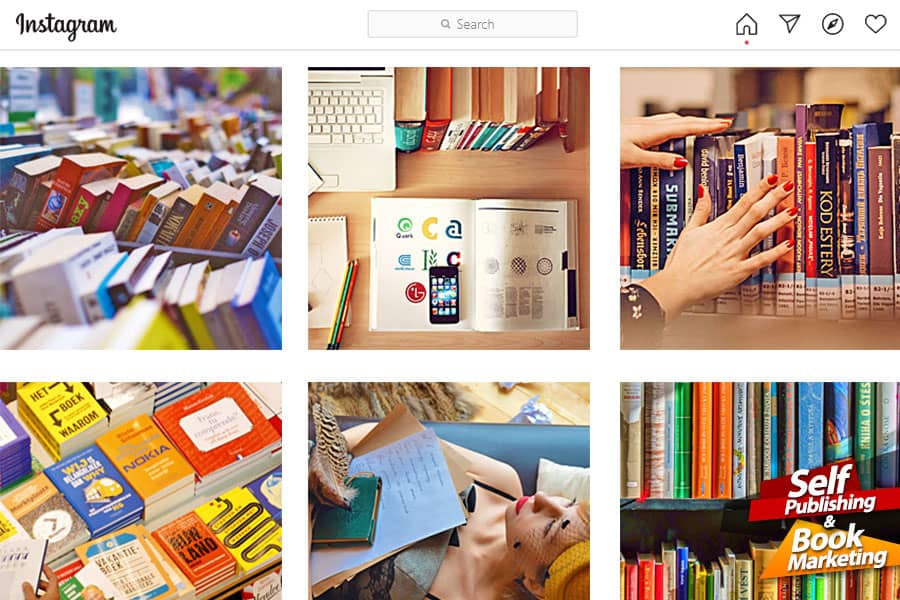 Frances Caballo - March 24, 2021 -
8 min. read
Instagram for Authors. Simple Secrets to Rock Your Instagram Presence.
Having an Instagram presence is vital for authors today. Okay, I always hate it when any self-described expert says that every author has to be on TikTok or any social media platform. But you know what? Instagram is different. It just is!
Instagram for authors has become a must-have tool for all writers who want to increase their presence. Let's look at a few statistics compiled by Hootsuite:
#1. Instagram now has 1 billion monthly average users. (In comparison, Facebook has 2.74 monthly average users, but Facebook has been around a lot longer. By comparison, Twitter has just 330 million users.)
#2. Users spend 30 minutes/day on Instagram.
#3. An estimated 130 million people tap on shopping posts every month. (I've done this, haven't you?) And 50 percent of users visit websites after seeing a product in an ad.
#4. Instagram stories are phenomenally popular. About 500 million use Stories every day.
#5. Instagram is the sixth-most visited website on the Internet! Google is in first place followed by YouTube, Facebook, Twitter (surprise!), and Wikipedia.
#6. Instagram continues to soar in use. In 2020 alone, this app witnessed a 17 percent growth in users.
#7. Whereas in the beginning Instagram was used primarily by female users, the breakdown is now 51 percent female and 49 percent male.
And, Instagram is phenomenally popular among readers, book bloggers, and bookstagrammers (book lovers who create aesthetically appealing images of books they read with surrounding items, such as flowers or candles and cups of coffee.)
Let's get into some simple tips that will definitely enable you to improve your Instagram presence.
Basic Tips for Your Author Instagram Presence
# Be Social 
The essence of social media is the social aspect. Unlike traditional TV or radio programming, the user comes to social media when she has time and the interest. While on social media, the key is engagement – in other words, you virtually talk to people through your likes, shares, and comments.
When it comes to Instagram, don't just upload or schedule your images, captions, and hashtags so you can do other things. Hang out. Get to know people. Follow people. Leave comments. In other words, Be Social!
Instead of uploading an image and dashing off, hang around. Get to know your followers by following back, liking their posts, commenting, etc. Reach out, make new friends, have fun, and be social.
# Hashtags Rock
Hashtags are huge on Instagram. The more hashtags you use, the easier it for people to find you and your content. You can use up to 30 hashtags; 11 is the minimum I recommend. Whereas on Twitter you don't want to use more than two (one is better), on Instagram you can go crazy with them.
You see, hashtags are a way for you to grow your account. One more note here. Always include one or two hashtags in your bio. 
# Step Up Your Photo Game
Your smartphone offers a great camera. Get creative, be original, snap it, and share it. Consider creating original memes with your photos. Add text with a photo app and upload it to your profile or create an Instagram story with your image.
By focusing on a theme and your genre, you can create quality content for posts. If your book shares a scene from wine country, you need a glass and a bottle of wine in your image with your book. Maybe you have a ranch scene in your book? A pair of cowboy boots and a hat would give you an opportunity to become your own best bookstagrammer.
Are you a romance author? Try a book cover photo and lingerie. If your main character has a shoe habit, step up your game. Subscribe to Shutterstock for five photos at a time and look for sexy lingerie and shoes.
Think outside the box and use your imagination. On Instagram, you want your photos to make others see you.
Instagram Stories and Highlights
A successful Instagram account must include Stories.
A lot of authors think of Instagram Stories as short stories. Banish the thought. Use images and very few words in your Instagram Stories. You'll find stories from your followers at the top of your feed. They are the circles on top. Once you tap a circle. The Story will last about 30 seconds.
You can have multiple images in one Story or your Story could be a video. If you don't save your Stories in your settings, they will permanently disappear from your account. So you'll want to save them under Highlights.
Your Highlights sit at the top of all the pages you've posted and just beneath your bio and website address. You can customize the covers for your Highlights. Just tap the highlight you've created and select the image or solid color with wording that you want to use as your highlight cover.
My Highlight covers are orange to match one of my brand colors. You can see them here.
Instagram Videos
Video is an essential part of your follower's Instagram experience. If you're not camera-shy, show your face and have fun. It's all about video right now, so maximize your opportunities. 
Instagram Apps to Kick Up Your Game
I no longer use Later but it's a worthy app to consider if you want to pay for a scheduling app for Instagram. (You can also use it for Facebook, Twitter, and Pinterest.)
With Later, you'll get a visual sense of your scheduled images for the week or the month. For example, this is what I planned for last December.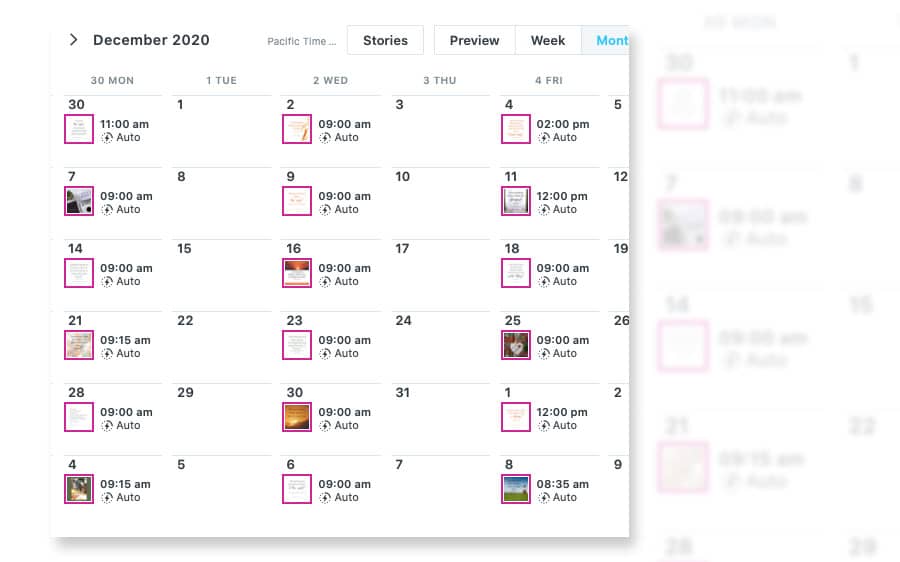 When I clicked the Preview tab, I could specifically see what I'd scheduled.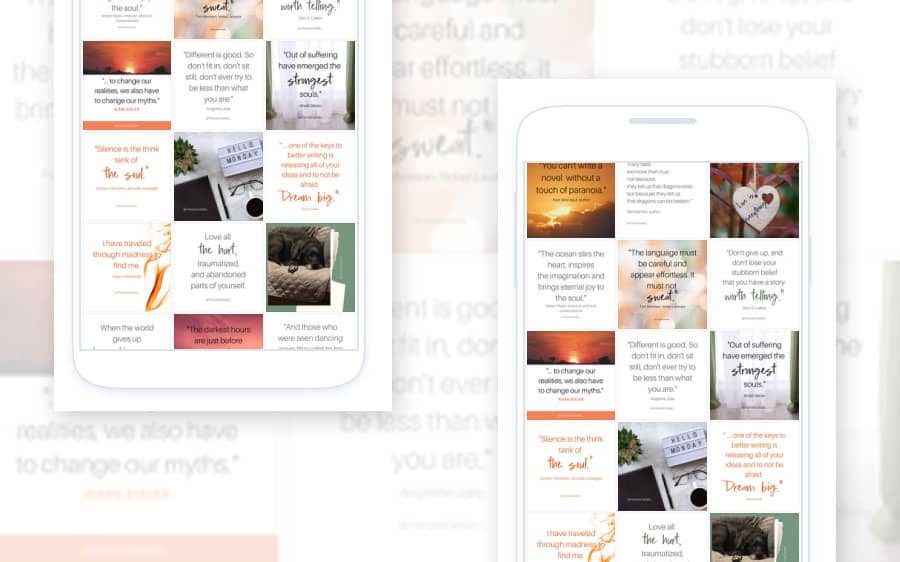 And, Later made it easy to move images around. Just click and move them.
Later offers analytics that indicate:
#1. Profile interactions
#2. Profile growth
#3. Best posting times
#4. Post performance
#5. Story performance
#6. Hashtag analytics
If you're on a budget, use Facebook to schedule your Instagram posts. You can use Creator Studio or go to your Facebook page, click Publishing Tools, and schedule your images, captions, and hashtags on just Instagram or for both Instagram and Facebook.
Lensa is my favorite selfie app. If you're camera shy but don't want to hire a professional photographer, get Lensa. Take this image, for example. I no longer have the original, but this is definitely an improvement!
Plus, Lensa has an array of cool backgrounds that you can add to your selfies.
Hashtags
I also like to use All-Hashtag.com. You can use this app on any social platform that uses hashtags, such as Instagram, Twitter, Facebook, LinkedIn, and Pinterest.
Hashtags are basically hyperlinked keywords. The more hashtags you use, the greater the chance that people will find you by using one of the hashtags you include in your first comment or in your caption.
For example, when I search for writer, these options appear:
#writer #writersofinstagram #writersofig #writers #writerscommunity #writerslife #writersofindia #writersnetwork #writersblock #writercommunity #writersoninstagram #writerlife #writerscorner #writerofinstagram #writersuniverse #writersofinsta #writerofig #writerssociety #writersociety #writerscommunityofinstagram #writerswrite #writersclub #writersonig #writersblog #writermemes #writerso #writermeme #writergram #WriterGirl
When I enter poet, these options appear:
#poetry #poet #poetrycommunity #poetsofinstagram #poetsofig #poetryisnotdead #poets #poetic #poetryofinstagram #poeta #poetsociety #poetryporn #poetryofig #poetryinmotion #poetrygram #poetrysociety #poeticjustice #poetrylovers #poetess #poetryslam #Poetas #poetrycommunityofinstagram #poetssociety #poetryislife #poeticjusticebraids #poetscommunity #poetryclub #poetofinstagram #poetrylove #poetsofinsta
You can use these hashtags or just use some of them and add your own. But All-Hashtag will give you a starting place.
Want to improve the appearance of your images? Try ColorStory. With ColorStory, you can crop images, sharpen images, and provide filters. I am surprised at how dull my original images appear before using ColorStory.
For example, here is one wonderful image and the same image after I used ColorStory.
I've tested Buffer, Hootsuite, and SocialOomph. But the scheduling app I like the best is SmarterQueue. On SmarterQueue, you can schedule Twitter, LinkedIn, Facebook, Instagram, and Pinterest updates. I use it for everything except Pinterest.
What is incredibly cool about SmarterQueue is that you can schedule recurring posts.
In this example, my original tweet posted on 12/3/2020 at 8 am and post every four weeks for a total of four times.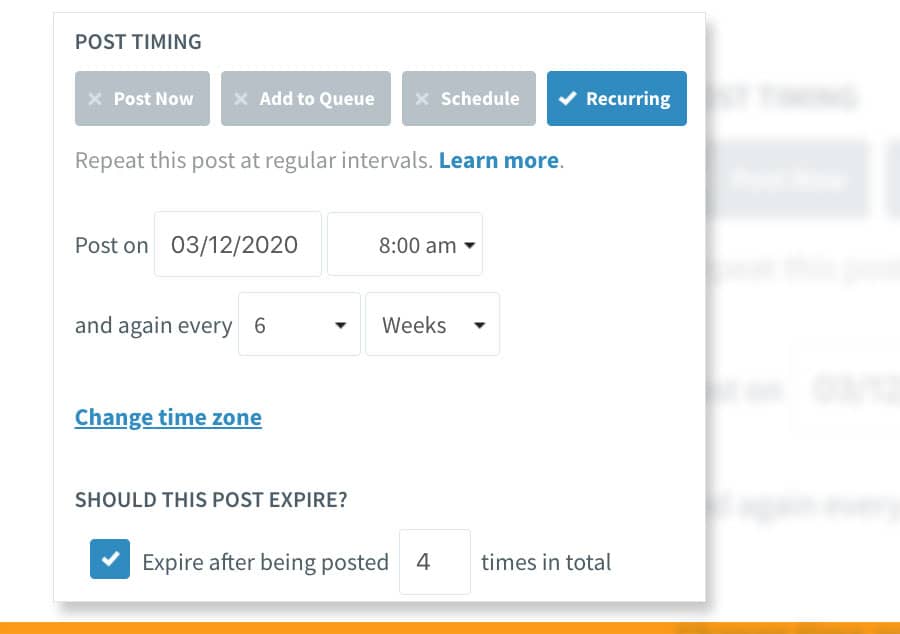 Because tweets last just 18 minutes in the news feed, it's essential to repost important tweets. With SmarterQueue, the reposting becomes automatic according to the criteria you establish.
Graphics Apps to Boost Your Instagram Presence
I've used Canva for years now, and I haven't found a substitute that I like better.
I have the professional version of Canva. That option enables me to convert images to different sizes quickly and without any effort. Plus, with the paid version of Canva, you have access to its library of images and templates for free.
You can use Canva for free. But an additional benefit of the paid version is that you can upload your favorite fonts and designate your brand colors in your brand kit.
For example, I've uploaded all of these brand fonts.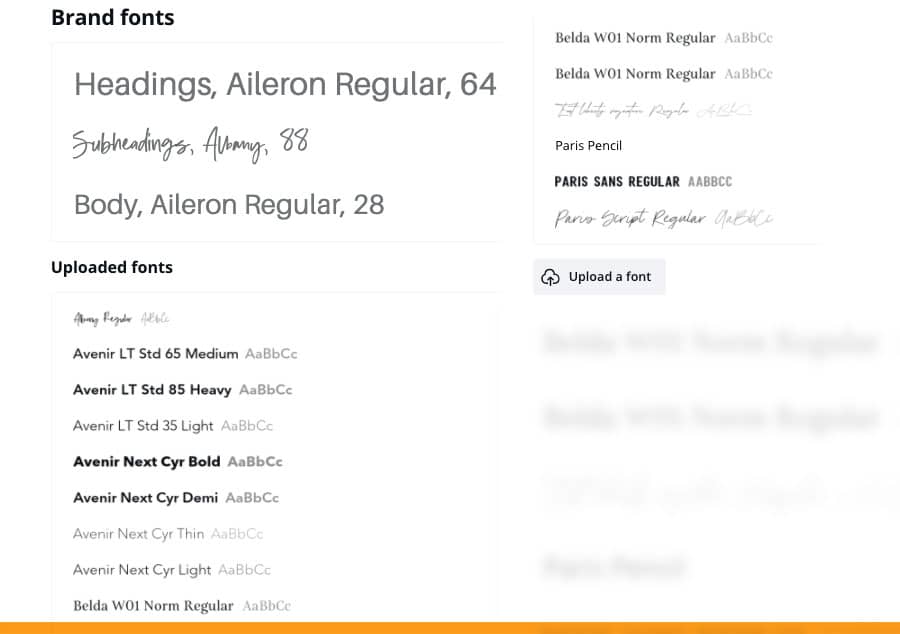 I've also uploaded a variety of brand colors for clients. To learn how to use Canva, just watch its tutorials.
As an aside, I've been experimenting with PhotoFunia. For Halloween, I added this picture of myself to Instagram. See what fun you can have with this app?
View this post on Instagram
Photo Apps
I use several sources to find images:
1. Canva
2. Freepik – This is a paid service. The annual fee is typically $119, but the app is always offering specials for first-time users.
3. Unsplash – (Be sure to credit the photographer when using these images.)
Presently, Shutterstock's deals include two images for $29 or ten images a month for just $49/month. Be sure to check Shuterstosk's pricing.
I'm not the type of social media "expert" who would ever suggest "all writers need to be on Twitter." "(You can replace Twitter with Facebook, LinkedIn, TikTok, Snapchat, or etc.) – I've never done that. But (you could feel that "but" coming, right?), I found myself telling a client recently, "All authors need to be on Instagram." That phrase just spilled out past my lips.
And you know what? I do believe that. I love Instagram the way I used to adore Twitter. Instagram is filled with avid readers, bookstagrammers, and every type of person who loves the written word.
So, if you're not on Instagram, open an account today. Then follow my tips and test the apps I mention. You'll soon find that you love Instagram, too.
If you liked this article you might also like:
• The Book Marketplace Has Changed. Make Your Book Available From All the Online Retailers!
• My Book Is Not Selling! – What's the Problem?
• Handy Apps for Authors  – Amping Up Your Book Marketing Game!
• Never Judge a Book By Its Cover! – Are You Really Sure?
• Book Marketing Myths – Let's Do Some Myth-Busting!