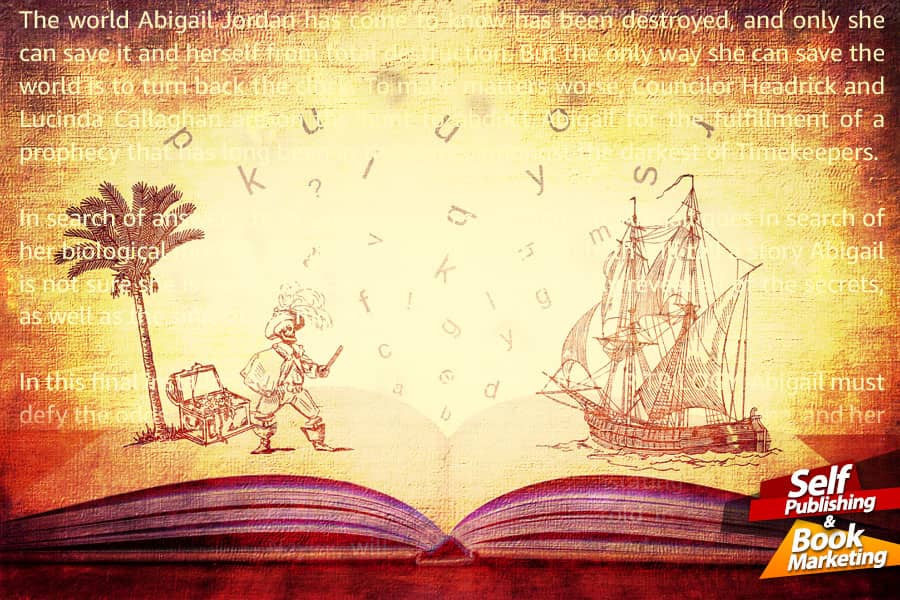 Rose Atkinson-Carter - October 24, 2023 -
6 min. read
3 Tips for Writing a Successful Amazon Book Description
Around 7,500 new books are published on Amazon Kindle Direct Publishing (KDP) every single day. If you've chosen to go with self-publishing over traditional publishing and want to make your book stand out on the world's largest online marketplace, one of the most important elements to consider — in addition to your book's title and cover — is your book's description. 
When an author uploads their book to KDP, they must specify different kinds of metadata, including keywords, the book's primary audience, and author details. A book's description on KDP is also a type of metadata that Amazon's algorithms use to figure out what the book is about so that Amazon can display it to relevant site users.
Here are three tips to keep in mind to help you write a successful Amazon book description: one that's both interesting and helps sell your book.
1. Start with a striking statement or question. 
Apply what good creative writing classes say and begin with a bang! Instead of diving into a synopsis of your book right away, try creating some intrigue with bold sentences or a question first. That way, you'll have the gears in your potential readers' heads turning from the get-go.
Imagine you're an Amazon user looking around for a crime thriller. You click on a book with a well-designed cover and check out its book description — which first line would you consider more compelling?
"The Cleaner is the first book in the John Milton series" or "John Milton is the man the government calls when they want a problem to go away… but what happens when he's the one who needs to disappear?"
While the first sentence provides some basic information about The Cleaner, the second sentence, which bestselling self-published author Mark Dawson uses in the actual description of his book on Amazon, is definitely more likely to intrigue potential readers. Right away, they'll wonder how John Milton will make himself disappear, as well as why he needs to disappear in the first place. Aim to write a similar hook, one that'll have potential readers thinking about the challenges your story will tackle or the different paths it may take.
Not a crime thriller writer? No problem! You can still write attention-grabbing beginnings for books of other genres. Here are some examples:
#1. "Orphaned. Trained to fight. Raised to fear the power of Underhill. Secretly in love with a man who doesn't want me." — A Court of Honey and Ash by Shannon Mayer and Kelly St. Clare
#2. "Ever had a bad day? Try having one on the moon…" — Artemis by Andy Weir
#3. "One hidden painting. Two women born centuries apart. A secret uncovered." — The Venice Secret by Anita Chapman
#4. "There's never been a better time to set new habits. This book will change your life." — The Power of Habit: Why We Do What We Do, and How to Change by Charles Duhigg
2. Keep your description to 150-200 words long
After your attention-grabbing beginning, think carefully about how you'll structure the rest of your book description without going over 200 words. It doesn't matter how long your completed manuscript is or whether you used a handy writing template to embellish it — while Amazon lets authors include up to 4,000 characters per book description, too many words can turn potential readers away.
When it comes to Amazon book descriptions, less is more. Write about your book's main plot and theme, but don't include additional details that'll bog down the synopsis. Remember that most Amazon users take just a few seconds to decide whether a book is right for them or not, so make it a goal to write a short but compelling book description.
To make your book description look even more approachable, don't forget to break it up into several paragraphs. Instead of having a huge block of text, you can organize your book description into different sections that serve different purposes. For example, after an attention-grabbing one-sentence paragraph, the second paragraph can include the basics of your book, followed by a third and fourth paragraph that touch on the heart of the story with important themes and ideas.
Take, for example, the Amazon book description of Before the Coffee Gets Cold by Toshikazu Kawaguchi that uses a four-paragraph structure:
If you could go back in time, who would you want to meet?
 In a small back alley of Tokyo, there is a café that has been serving carefully brewed coffee for more than one hundred years. Local legend says that this shop offers something else besides coffee—the chance to travel back in time.
 Over the course of one summer, four customers visit the café in the hopes of making that journey. But time travel isn't so simple, and there are rules that must be followed. Most important, the trip can last only as long as it takes for the coffee to get cold.
Heartwarming, wistful, mysterious and delightfully quirky, Toshikazu Kawaguchi's internationally bestselling novel explores the age-old question: What would you change if you could travel back in time? 
3. Include comp titles
Simply put, comp titles (also known as comparative or competitive titles) are media (books, films, video games, etc.) similar to your book. You can mention them near or at the end of your Amazon book description to help readers get a better understanding of what your writing is about.
Many of us use comp titles in everyday life. If you're trying to tell your friend about a book or TV series you just started that they know nothing about, you might mention titles with similar elements; for example, "It's The Hunger Games meets X-Men" or "It's like Jane Eyre but in space."
But before you add some comp titles to your Amazon book description, remember that there are a few important don'ts to keep in mind when it comes to choosing them.
First, tread the line between very obscure and very popular titles carefully. Since you only have one chance to entice potential readers to buy your book, don't mention similar books no one has heard of — it's unlikely that they'll take the time to look up all the little-known titles you've mentioned. Similarly, don't fall for the common mistake of solely comparing yourself to huge successes, such as Harry Potter, The Hunger Games, and A Song of Ice and Fire. Instead, choose similar books that fall somewhere in the middle in terms of popularity, or a combination of one runaway success and one slightly more moderately successful title.
Second, don't mention titles that are too dissimilar. Crazy Rich Asians meets The Girl with the Dragon Tattoo may sound interesting at first, but potential readers might not be able to fully picture what this book is about since their plots and other elements are just way too different.
Finally, here are some examples of popular books that include comp titles in their descriptions:
"Passionate and violent, The Bridge Kingdom is a seductive fantasy perfect for fans of From Blood and Ash and A Court of Thorns and Roses." — The Bridge Kingdom by Danielle L. Jensen
"An LGBTQ+ graphic novel about life, love, and everything that happens in between — for fans of The Art of Being Normal, Holly Bourne and Love, Simon." — Heartstopper by Alice Oseman
"What If It's Us meets They Both Die at the End in this postapocalyptic, queer YA adventure romance from debut author Erik J. Brown. Perfect for fans of Adam Silvera, Alex London, and Heartstopper by Alice Oseman." — All That's Left in the World by Erik J. Brown
And there you go — three tips to keep in mind as you write your book's description on Amazon.
But don't stop here! Remember that books rarely become bestsellers overnight, so do whatever you can to make your book reach a wider audience, whether that be by creating a newsletter, using some KDP hacks, or coming up with a powerful book marketing plan.
If you liked this article you might also like:
• Instagram for Authors. Simple Secrets to Rock Your Instagram Presence.
• Amazon Author Central – How to Setup Your Author Page on Amazon!
• The Book Marketplace Has Changed. Make Your Book Available From All the Online Retailers!
• The Levels of Writing and Editing Explained Once and for All
• Why First-Time Authors Need an Editor!
• Book Marketers Secrets – 7 Secrets of Top Book Marketers!
• Self-Publishing Success Stories. Secrets of Million Dollar Self-Publishers!
• Never Judge a Book By Its Cover! – Are You Really Sure?
• Business Plan for Authors. Do Authors Need a Business Plan?
• Creative Book Marketing Ideas for Selling Your Books!