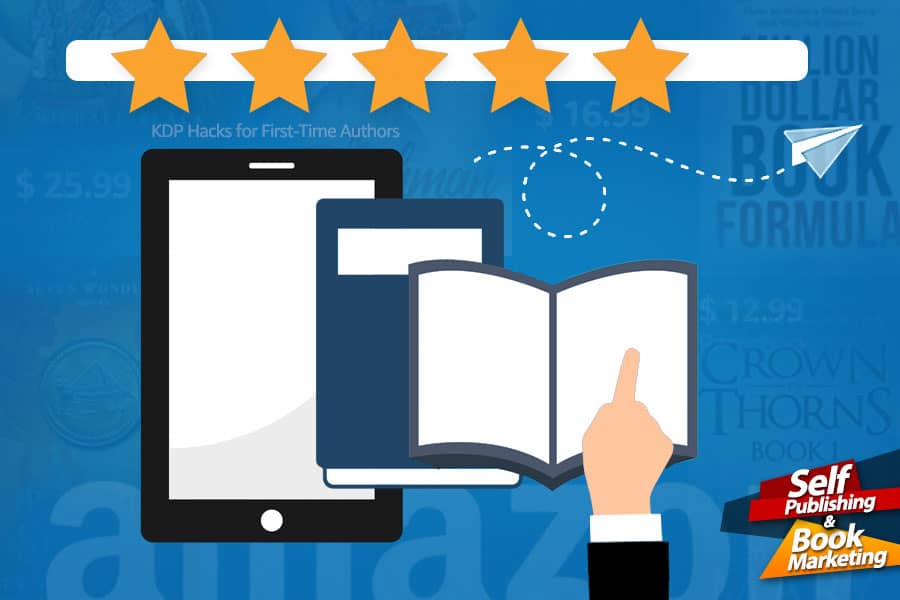 Savannah Cordova - October 21, 2021 -
6 min. read
5 Must-Know KDP Hacks for First-Time Authors
If you're self-publishing an ebook, Kindle Direct Publishing is probably at the front of your mind. After all, Amazon controls 68% of the international ebook market (and an even greater portion in the US), so KDP is a crucial platform if you want your work to reach a large audience.
The good news is that it's never been simpler to self-publish on Amazon — and with KDP's effortless upload process and 70% royalties on most ebooks, it's also a pretty attractive deal.
On the other hand, as more and more people go through self-publishing companies like KDP to get their titles out there, the indie book market becomes increasingly crowded.
If you're reading this, you might be wondering how to even get noticed in a sea of over thirty-million Amazon publications — much less how to succeed.
It may be a challenge, but if you keep these five tips in mind, you'll be well on your way to coveted bestseller status!
1. Perfect your product first
KDP makes it easy to create an ebook, but it's still essential to go over your book's various components with a fine-toothed comb. In today's oversaturated market, readers can afford to be extremely selective — meaning there's no margin for error.
So before you even think about publishing, make sure you've worked with an editor, cover designer, and any other professional you need to perfect your book. Readers will decide whether to buy it based on a quick glance at your cover and possibly a snippet of your story.
This means your writing — especially in the "preview" section — must be airtight, and your book must be professionally formatted.
Experienced editors and designers can help you polish these all-important basics before you publish; don't neglect them in hopes of saving money, because you'll only lose book sales over time.
2. Attach extra keywords and categories
Now it's time to optimize your book for Amazon's search function.
First off, ensure your book's primary category (the genre or type of book it is — e.g. fantasy, war, guide, etc.) is part of the subtitle. After all, new readers who don't know your book's "main" title won't search for it… but they will search for more general terms in pursuit of books like yours.
You can also add keywords to your book's metadata. You're allowed seven keyword phrases total, and the longer they are, the better. Think of it like this: if you'd written a mythical fantasy novel with dragons and other magical creatures, you could use up three keywords on "fantasy", "dragons", and "magical creatures"…
Or you could just make one keyword "mythical fantasy dragon magical creature" and have six keywords left over! To come up with these, Amazon suggests thinking about your setting, character types, character roles, plot themes, and story tone.
And to test their relevance, simply search prospective keywords in Amazon and see whether those books are similar to yours — and indeed, whether anything comes up at all (if not, your keywords may be a little too niche).
Successful indie authors cover as much keyword ground as possible, so more readers can find their books.
They also include as many relevant categories as possible — genres and subgenres, one of which you've hopefully already added to your subtitle. Amazon KDP lets you choose two categories from the outset, but if you contact KDP Support, you can add up to eight more.
3. Write a standout description with social proof
Next you'll need to write your Amazon book description. This should include a handful of relevant keywords as well — shorter and more organic ones here, as readers will see them in your description (as opposed to your metadata keywords, which aren't actually visible).
The good news is that your book description is really about doing what you do best: writing!
Even with the need for keywords, you can be more creative in your description than in most of your Amazon details; you get to introduce your main character and plot, use dramatic language to intrigue the reader, and leave them with a question that compels them to keep going.
Make sure your description also stands out aesthetically. You can use HTML to make fonts larger or smaller, italicized or bold, on your Amazon product page. Finally — and perhaps most importantly — remember to add pull quotes and editorial reviews to your product page!
Editorial reviews are snippets of professional and publication-endorsed reviews of your book (e.g. The New York Times or Publishers Weekly, not just any old Goodreads review).
You can add editorial reviews via your Amazon Author Central dashboard. Keep them short and snappy so people will read them, and try to choose excerpts that highlight different aspects of your book.
4. Look into Kindle Unlimited before enrolling in KDP Select
One of the biggest decisions when self-publishing on Amazon is whether you'll enroll in KDP Select.
Enrolling in this program means Amazon retains exclusive sales rights to your ebook. In exchange, you'll get special promotional opportunities, higher royalties in certain territories, and — most crucially for indie authors — inclusion in the Kindle Unlimited library.
KU inclusion equals more people reading your book, which means more reviews and royalties than if you only sold it the standard way. And while KDP Select isn't for everyone — namely, people who want to "go wide" and sell their books on retailers other than Amazon — it's a chance worth taking if your genre is big on Kindle Unlimited.
Romance, sci-fi, and fantasy are the most popular KU genres, but you'll want to investigate yourself before enrolling your book in KDP Select; luckily, KU offers a 30-day free trial.
If you find your subgenre is highly saturated (and therefore competitive) or basically nonexistent (implying there's no audience for it on KU), perhaps KDP Select isn't for you after all.
If you're unsure, you can always try it out just to see. The KDP Select enrollment period lasts for 90 days, so you don't have to re-up if KU isn't worth the sacrifice of Amazon exclusivity. That said, don't hop in and out over multiple periods; you need to commit to reap the full benefits.
5. Market your book early and often
Finally, don't forget to put some elbow grease into marketing your book.
Set up dedicated social media accounts before publication day, then use them to post interesting quotes, interact with followers, and generally keep the world updated on your upcoming launch.
Also, if you opt into KDP Select, make sure to reap its non-KU promotional benefits! As a KDP Select author, you can put your book on a limited time discount for one week every 90 days while still earning 70% royalties.
You can also offer a free promotion for five days out of every 90 — you won't receive any royalties, but you will gain all-important visibility.
If you take the free promo tack, promote your giveaway as much as possible. Again, post about it on social media, your website, and through book promotion services.
High-profile promotions are sure to draw in more readers (and again, you can add particularly sparkling reviews to your editorial reviews section on Amazon).
Of course, no author gets everything right the first time — trial and error is part of the process. But with these five hacks in your arsenal, you'll be well on your way to conquering Amazon's ebook charts. Looking forward to seeing you there!
If you liked this article you might also like:
• Amazon Author Central – How to Setup Your Author Page on Amazon!
• The Book Marketplace Has Changed. Make Your Book Available From All the Online Retailers!
• The Levels of Writing and Editing Explained Once and for All
• Why First-Time Authors Need an Editor!
• Book Marketers Secrets – 7 Secrets of Top Book Marketers!
• Self-Publishing Success Stories. Secrets of Million Dollar Self-Publishers!
• Never Judge a Book By Its Cover! – Are You Really Sure?
• Business Plan for Authors. Do Authors Need a Business Plan?
• Creative Book Marketing Ideas for Selling Your Books!