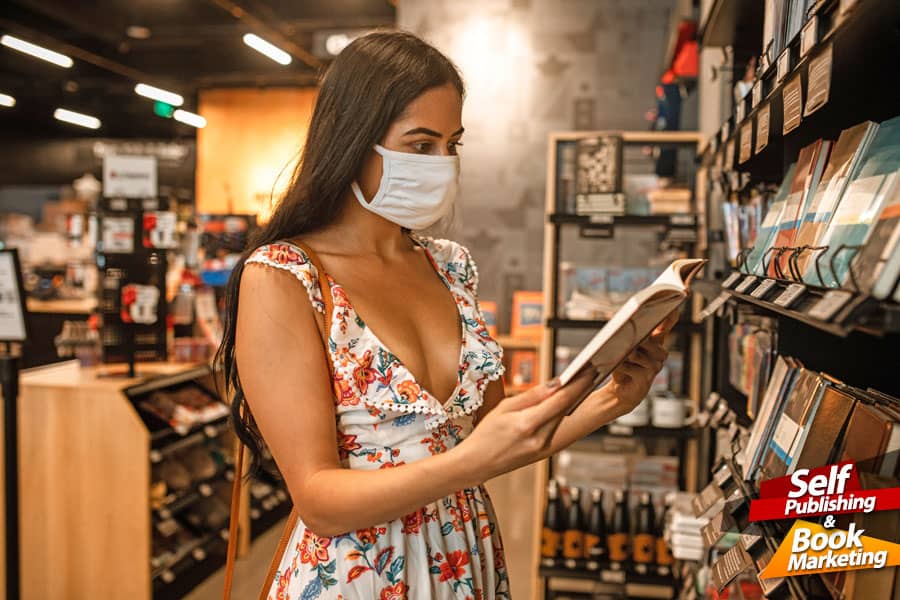 Paula Krapf - July 1, 2021 -
8 min. read
Marketing your book during (and after) a pandemic. Tips and tricks!
What happens when you combine authors anxious to get back in front of an audience, families hungry to get out and have some in-person fun, and a kid's festival revival one year after a lockdown? A fabulous story time and meet-and-greet event that people continue to buzz about nearly a week later.
Marketing your book during a pandemic can be a very challenging task. If we've learned anything about marketing during a pandemic, it's how to pivot.
Things change in a moment. From a "marketing your book" perspective, this offers a range of new opportunities. Events that used to take months to plan now come together in half the time, or less. New partnerships spring up as we scramble to resume something that resembles life before COVID.
Here are some ideas and strategies for online opportunities as well as in-person events to connect with your audience and continue to build your fan base.
Social media and other online content are critical to marketing your book
Impact My Biz noted that marketers expect a 66% increase in social media content creation during the pandemic, followed by blog content at 57% and video production at 50%, which aligns with the fact that your audience is probably spending more time online.
While some of their activity may be doom scrolling, they really do want something positive and enlightening. Moreover, authors do a great job informing and entertaining their fans.
The past year presented the perfect time to learn how to perfect Zoom presentations, create online events from livestream to videos, update your website with compelling content – and even start your next book.
Things to think about for online marketing your book:
# People spend more time on social media – take advantage of this engaged audience.
Where are your fans and what are they doing? Each social media site is different in terms of demographics and actions (loosely, Instagram skews younger, Facebook older, for instance). It can be easier to get engagement on Instagram but if Facebook is where your fans are, consider creating a Facebook group because that's where Facebook places emphasis. Business pages continue to get less traction, especially for free content.
# People want to be entertained and escape reality. What can you offer?
# People seek normalcy and positivity. They already see plenty of bad news online so look for ways to stand out.
# People watch more livestream videos – if you aren't livestreaming, this is a great time to experiment.
# People like to get text reminders – expand your email list to get their cell numbers. This will come in handy if you have events of any kind because you can send a quick reminder.
# Offer online webinars, book talks, and readings.
# Take advantage of reliable author marketing tools such as Goodreads, which is a goldmine of reading groups, giveaways, and other opportunities to directly reach fans.
# Facebook ads pay off when more people spend a lot of time online. The Return on Investment (ROI) of paid Facebook ads increased 71% after COVID 19, according to web influencer and entrepreneur Neil Patel. Facebook ads are not expensive, and if you know your audience, their targeting options will ensure that you get your message directly to them.
People are eager to get out and have in-person experiences
With much of the world trying to get back to some semblance of a new normal, it's time to take advantage of many people's need to get out, interact with other people, and be part of something.
There is one caveat: While many communities have opened up, some have reimposed restrictions, and some populations are careful about exposure to other people and slowly going out in public.
For instance, where I live, many senior centers are not open to the public, and yet their members are looking for things to do. Right now, their socialization and events continue to take place online (yet another area you can pitch an event to).
In addition, many libraries near me do not have regular hours and that cuts into programming opportunities. The park district is business as usual, however, and they offer robust programming (especially to seniors).
For those ready and eager to get out, gatherings of all kinds are popping up. Are there farmer's markets, summer festivals, or special shopping nights in your business community that you can join? Look for ways you can educate and entertain at such events.
Things to think about for in-person events:
# Who can you collaborate with? A local chamber of commerce or other business group? A park district or library? Local stores (and not just bookstores)? Are there other authors in your area willing to combine their talents for an event?
# What kind of in-person events are happening in your area? Take your cues from what's happening around you. It's a great time to pitch yourself, and you might discover that venues that used to say no are now open to working with you. If you're willing to help market the event, even better.
# As civic organizations and business groups resume their regular meeting schedules, they seek speakers. Many of these groups like to have a speaker each week or month in addition to member socialization. What can you pitch to them for a captivating topic?
# If summertime weather in your area permits, seek outdoor events. Many people feel safer being around other people if they are all together outside.
Keep your house in order
It's been difficult for many people to stay focused and active during a confusing, frightening, and lonely year. Yet this is a great time to stay in touch with your fans.
Don't overlook the power of email. Email marketing continues to thrive – in fact, more people are opening their email than ever before. Another benefit of email marketing is you own your list and make the rules – you don't have to worry about a third party (such as a social media site) making sudden changes to your account, posting rules, etc.
Use your emails to entertain your fans with great content: read excerpts, hold contests, tell them about upcoming projects, and survey your audience to see how they're doing.
This will help you figure out your next steps in marketing your book. Are they going out, and if so, where? If they aren't comfortable going out, how do they spend their time?
If you don't currently offer your book in multiple formats, do so.
Not only is it convenient, it also offers additional marketing opportunities for exposure.
Look for opportunities when they occur
I want to get back to the author event at the kid's day festival because it's an example of how we need to seize an opportunity when it presents itself.
The author readings and meet-and-greets came about because one of the authors has a book coming out in the fall. She had been thinking of ways to market her book and get it in front of families.
Then she saw her local library – which she had already asked to carry her book – was going to host a kid's day. She knew she wanted to be part of it.
She immediately understood that since the event was going to have a quick turnaround from planning to execution that she needed to do her part in helping to market the event. She also realized that while kids and parents ready for a fun day out would enjoy an author reading, they would love listening to readings from several authors even more.
She quickly developed a game plan: she would contact her author friends in the area to see who would be available that day.
Once she had a plan, she reached out to the library with all the details except the exact number of participants.
They just needed a space, she'd gather the authors, create a schedule, create promotional bookmarks and posters, and push the event heavily online. (These days, there are so many free or inexpensive templates creating marketing materials is easier and faster than ever PicMonkey.com is one of them).
With nothing to do but provide space, it was easy for the library to say yes to the request. She reached out to her network, and found eight other authors who were available and eager to join her. All the authors brought copies of their books and donated one of their books for a giant book giveaway.
Some authors sold their books on site while others used a QR code to send people to their website to purchase a copy. (It's interesting how QR codes seemed on their way out until the pandemic struck; then restaurants and many others found them invaluable.
You can easily create a QR code for free that people can scan with their phones and get a link to your website where they can buy a book).
On the day of the kid's festival, these authors kept children of all ages and adults captivated for 2.5 hours. This fabulous event could become a permanent part of the kid's festival. And this author event happened because one author was looking for ways to raise awareness of her upcoming book, saw a promising opportunity, and took action.
See what's going on around you. Where do you see opportunities – both online and in-person – for you, and for partnerships? Don't wait, jump in, make your pitch, and get to work. Happy marketing your book!
If you liked this article you might also like:
• Amazon Author Central – How to Setup Your Author Page on Amazon!
• The Book Marketplace Has Changed. Make Your Book Available From All the Online Retailers!
• Why First-Time Authors Need an Editor!
• Book Marketers Secrets – 7 Secrets of Top Book Marketers!
• Self-Publishing Success Stories. Secrets of Million Dollar Self-Publishers!
• Never Judge a Book By Its Cover! – Are You Really Sure?
• Business Plan for Authors. Do Authors Need a Business Plan?
• Creative Book Marketing Ideas for Selling Your Books!