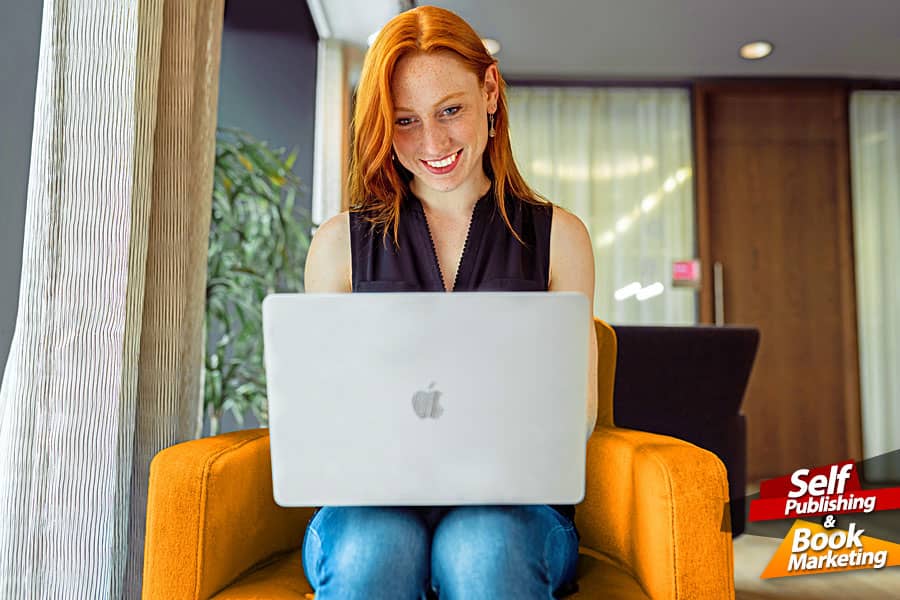 Marie White - February 16, 2021 -
7 min. read
How Can I Sell My Books on Amazon? – Guidelines for 2021.
Selling on Amazon is the ultimate goal of most writers. But how do you get a book onto the coveted Amazon website in 2021?
It's 2021 and if you've written a book, the place you want to see it sold is Amazon of course. Why? Because that's where we all go for books.
With affordable print on demand services, Amazon Prime free shipping, a huge portion of the ebook and audio book market, as well as the coveted "look inside" feature, why wouldn't you want your book on Amazon?
There are actually two sides to this argument: one is in favor of going exclusive with Amazon and the other is in favor of "going wide" with your book and ebook.
Let's explore the benefits of publishing your book and ebook exclusively through Amazon.
Using Amazon Exclusively
Amazon's self-publishing arm is called Kindle Direct Publishing (KDP).
When authors use KDP they upload their book's manuscript onto the KDP dashboard and offer it to the world through Amazon's distribution. Compared with other print on demand (POD) publishers, Amazon's cover and paper quality is generally considered superior.
This is especially apparent when it comes to the color brilliancy of book covers and in full-color books like children's picture books.
Amazon gives authors the option to offer their book exclusively through Amazon or to other retailers through expanded distribution.
To better illustrate what going exclusively through KDP means for your book's profit, here is the screenshot of a book with a retail price of $10.00.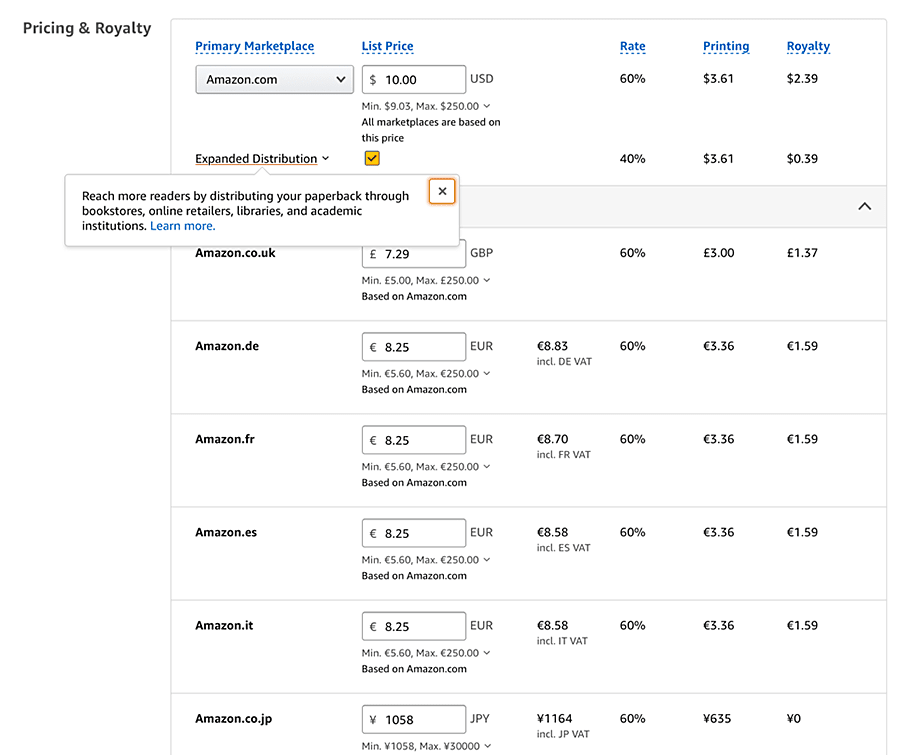 As you can see, we have set the price for Amazon to sell this book at $10.00.
The cost to print this book is $3.61. Amazon then takes their fee to sell your book on their platform and your profit from selling one copy of this $10.00 book is $2.39.
If a bookstore wants to carry your book, it would purchase it directly through the distributor that KDP uses. Retailers have complained that buying books from Amazon's distributor only allows them to make about $1.00 per book and therefore it is not worth it for bookstores to carry KDP books.
KDP explains that, "the royalty rate is 40% of the book's list price effective in the distribution channel at the time of purchase, minus printing costs, applicable taxes, and withholding."
In the screenshot you can see that your profit from selling a $10.00 book that is purchased by a store is $0.39.
Broadcasting That You Have Self-Published
Amazon also offers ISBNs.
Authors should be aware that using an ISBN provided by KDP will alert people to the fact that your book was self-published. This won't make a difference to your friends and family, but it may hamper your chances of being taken seriously during interviews and by fellow authors.
Below is a screenshot from Amazon, showing CreateSpace Independent Publishing Platform as the publisher, (KDP was called CreateSpace before the name change).
Size Considerations
Another aspect to consider during the self-publishing process are the dimensions of the book, known as trim size.
Most authors just want a comfortable size that makes their book look good. However, other authors have a particular size in mind. Print on demand (POD) services such as KDP do not give authors the option of publishing in every size.
This can be beneficial to new self-publishing authors because the distribution of their books will be hampered by choosing book trim sizes that are not trade standard sizes. Many places just won't carry it. This screenshot shows the available trim sizes from KDP.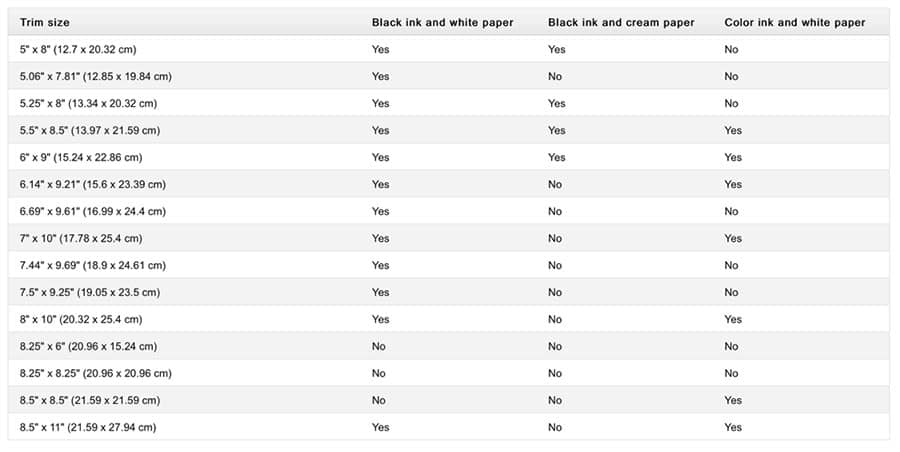 Paper Color
The way that the pages of your book look is also an important aspect to consider. There are two paper colors to choose from, white and cream.
Again, some authors have strong feelings about which type they prefer, but the printing quality varies on each color. White tends to come off very crisp and clear, making it ideal for workbooks. Cream tends to have a softer feel and more ink bleed, making it better for novels and longer books.
Ebook Versions
KDP also allows writers to publish Kindle ebooks.
There are three ways to use the word Kindle. "A Kindle" is the tablet that can read ebooks. The free "Kindle app" allows people to read ebooks from Amazon. "Kindle books" are the digital ebooks that can be read on any type of computer, tablet or smartphone.
KDP Select
Amazon also has a program called KDP Select. When you enroll your ebook in this program, it cannot be sold anywhere else. This also allows your book to be read for free by people who have purchased the Kindle Unlimited (KU) subscription offered by Amazon. The bright side is that each page read through KU means money for you. The downside is that you may only earn pennies.
Read here about the pros and cons of enrolling your ebook in KDP Select, including using free days and Kindle countdown deals.
Ebooks that are published through KDP are eligible to use a free ASIN (ebook ISBN) from Amazon, the only caveat is that the name of the publisher will be KDP.
According to Publishing With Love, the top 5 ebook buying countries (in order) are the United States, Japan, China, the United Kingdom and South Korea. The top three ebook categories (in order) are literature/fiction, romance and mystery/thriller/suspense.
Amazon does not yet allow ebooks in every language. Some of the missing languages include Russian and modern Greek. There are also some languages that have additional guidelines for publishing such as Arabic, Chinese, Hebrew, Yiddish and many Indian dialects.
Self-published authors will have to work with other ebook distribution sites such as Smashwords or Draft2Digital to get their book to readers in languages not supported by Amazon.
Help! My Book Was Stolen
Another aspect for authors to consider is how secure their book will be on Amazon.
Authors who have published through Amazon are no strangers to finding their books scattered across the internet by people who have taken their content and have it listed for outrageous amounts of money.
In other instances authors have their content hacked and given away for free on random book scanning websites.
There is not much that authors can do in these cases.
From the very famous to the unknown, authors of books will have their work stolen.
It's just a fact of this digital era, but it is not uncommon. Books throughout history have been copied by hand and sold or circulated. If you do feel compelled to take action, you can send a DMCA take down letter as outlined in this article.
Alternately, if this happens to you, you can see it as a badge of honor. Someone thought your book was worth stealing, and don't worry, most readers have no idea that these sites exist. Those who use them were never going to pay for your book anyway. Who knows, if your book is excellent, you might just have an underground movement of fans who love your work and will talk it up to others.
Those others will most likely go to Amazon to buy it!
Marketing, the Second Half of Publishing
Another reason not to worry about these pirated copies is because authors who have published a book know that getting your book to market is only half the struggle. The other half of the struggle is the most dreaded word in the author's vocabulary… marketing.
Amazon has a marketing arm of their KDP platform which allows authors to promote their books through giving their Kindle book away for free, having price reduction deals and through sponsored ads on Amazon.
Part of your marketing on Amazon includes making your author profile on Amazon's Author Central pages. When an interested buyer clicks on your name, they will see your bio and other books you have written. A well-crafted author page can bring in additional sales.
For the Future
As you can see, Amazon is your one-stop shop for all book related things, but I highly recommended that you don't put all of your eggs in one basket.
With the possibility of server issues, security problems or internal changes, your book's sales could be in jeopardy if you only have it in one place.
Wise indie authors such as Joanna Penn, recommend that you "go wide" for the win! She encourages authors to expand their reach and take more control of their author business by making their print and ebooks available through a variety of stores.
Don't be afraid to dip your toe into the waters of the author world by starting out on Amazon, but set a goal to learn about other ways to get your book into the hands of readers everywhere.
If you liked this article you might also like:
Successful Self-Published Authors – Smart Guide
Create a Write Business Model of Your Own!