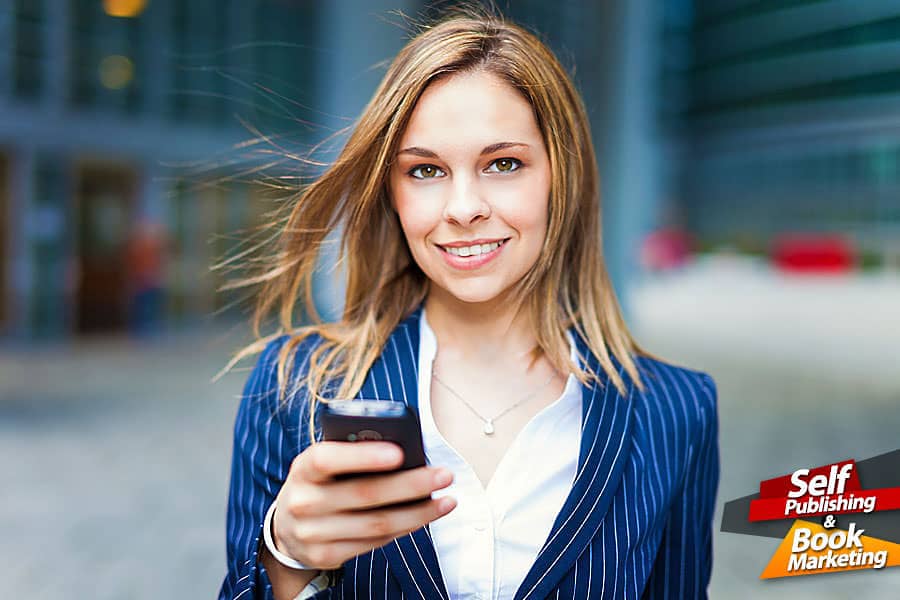 Paula Krapf - December 4, 2020 -
5 min. read
Handy Apps for Authors – Amping Up Your Book Marketing Game!
It's easy to get stuck in a book marketing rut when you do the same things over and over. You're in automatic pilot mode, not really thinking about or analyzing what you're doing: Is it still effective? Does your audience respond? You don't give it much thought because all the tools you're using are tried and true – why do you need to do anything new?
The truth is, we learn new skills, grow as professionals, make new contacts, and expand our marketing universe when we step outside our comfort zone.
One barrier to branching out in what we do is lack of time. We're all pressed for time, and the thought of working with something new, learning what works and what doesn't, can be overwhelming.
That's where the power of word of mouth comes in.
Instead of venturing into the unknown, find out what other people are using and raving about, and give it a try. It's a lot easier to take the leap if you know others have used something successfully.
I recently had the chance to chat with a group of people who represented different fields but all faced a similar challenge: how to keep our book marketing fresh. We decided to give our own marketing efforts a boost by recommending some of our favorite apps for authors and techniques and learning how others use those apps.
Take this opportunity to discover some new ways to market!
Animated Stories for Android (InStories for iPhone)
This app supplies beautifully designed templates that make your Facebook and Instagram stories shine.
The free version has plenty of options to work with, and if you want to take it up a notch, the paid version offers more complex templates and music. People will think you've spent hours creating these stories!
Although stories are temporary, they are a popular and important feature of Facebook and Instagram, and they make a strong impression on viewers. The great thing is you can save the stories you create.
If you like a story and your audience responded to it, you can reuse that story – or edit it to make it seem new. That's another way to save time with your marketing. There's a lot of content posted to social media, so finding a way to stand out can give you a better shot of engaging your audience.
GeniusScan
If you find you need documents on the go, this app is for you.
Scan your paper documents on your phone and export them as multi-page PDF files. There's a batch scanning function that allows you to scan multiple pages quickly. The basic app is free and offers unlimited scanning. This way, you can provide quick and easy access to documents without being tethered to your office.
Square Fit for iPhone (PicsArt Photo Editor on Android)
This collage photo video editor allows you to crop and format images with professional results.
It's great for Instagram where high-quality photographs really stand out. This app has a number of editing features that include the ability to blur backgrounds, add emojis, stickers, filters, text, mirror effects, and more.
Additional photo editing functions that allow you to adjust brightness, contrast, saturation, sharpness, etc. Instagram is flooded with content; posting high quality, captivating images draws eyes and reactions to your posts.
Meet Edgar
Maintaining a presence on social media channels is a commitment.
Finding the time to curate content is often the biggest challenge. This app allows you to schedule, share, and recycle your social media content. It will also help you find new content to share. You'll get ideas for content categories, recommended times to post, and it can even suggest variations on your posts.
There are two pricing tiers, but you get a free trial before you buy so you can test its features. If you're on social media, you need to post regularly, and a tool like this ensures you never run out of content!
QR code generator
It seemed like QR codes were on the way out; but when COVID struck many businesses began to realize its value.
Restaurants quickly turned to QR codes as a safe way to provide menus to customers. To get a code, Google "QR code generator" to download and use a free code. You'll get a two-dimensional version of a barcode, usually black and white pixel patterns.
You can use the QR code to send people to your website where you can get their feedback, have them read your latest blog post, show them a video featuring your products or services, get them to sign up for events, or offer coupons. You can use QR codes in so many ways to direct your followers to take action – send them to your social media accounts, share photos, offer information, update them on your events, etc.
Using the QR code is much easier than typing your website URL into the tiny search bar on a phone; they can scan your code and immediately get to your website and see your message.
Podio
This app is promoted as a productivity management tool, and it's certainly a great way for teams to work together.
You can use it to organize and track projects, and teams can share files and chat in real-time. However, you can use this web app to chat with customers. The real-time chat feature is good for providing customer service and getting referrals. At a time when so much is in flux – including operating hours, whether you're open or closed – people may be going to your website more frequently, and this is a great way to have instant communication with customers.
Event Brite
Create easily shareable events with this app. It's great for tracking invitations, responses, and ticketing.
Take advantage of their templates to create unique promotions. Eventbrite is free to use if the event is free. You'll also be able to use Eventbrite to email your audience and promote it on Facebook. Given the robust tracking and marketing tools this app offers, it may be worth exploring if you host events.
Facebook Messenger
If you've ever received too many messages from well-meaning Facebook friends it might be tough to think of Messenger as a marketing tool.
However, Messenger can be used on any device and allows you to have voice and video calls. You can have group chats, send photos and videos, conduct polls, and more. Messenger is a marketing tool to consider if you have a lot of fans or followers on Facebook.
You can also automate messages, which offers a convenient way to stay in touch with your audience (and get them to sign up for your newsletter, event, etc.)
This list is just a sampling of some of the apps for authors that can amplify your book marketing message and simplify your workload. You may have heard of or even used some of these tools, but perhaps not taken advantage of all of their features. Some may be new to you, and I encourage you to check out one or two that are unfamiliar to you and see what you think.
I find it interesting that in this group discussion I participated in no one brought up some of the hot apps that have a lot of buzz behind them.
For instance, TikTok, which is used by a restaurant I love to showcase their Sunday pasta club and they really do a fantastic job. TikTok skews to a younger audience but when it's used well it definitely increases engagement.
Then there's Zoom – and we were on a Zoom call at the time, although a few people mentioned they have Zoom fatigue. This is a real phenomenon, but Zoom is not going away anytime soon.
No one mentioned What's App, either, although this messaging app has had more than 2 billion downloads.
Google Meet has gained a lot of popularity since the pandemic, and many users found they preferred it to Zoom (early on there were a lot of security issues with Zoom although this seems to be behind them now).
YouTube is the most downloaded streaming app worldwide, and video content continues to play a critical role in marketing.
There's also Snapchat, another mobile messaging app that appeals to a younger audience. Snapchat users love their filters and the fact that their videos are typically available only for a short time.
Whatever your marketing needs, there's an app – or two or more – that can help you.
The pandemic has brought people online to connect, to learn, to be entertained – giving you a chance to lure them to your marketing funnel and turn them into a fan or follower. Use this time to explore and learn some of the apps for authors. And don't forget about the power of word of mouth; if you need some marketing inspiration and ideas, reach out to others to brainstorm and share your likes (and dislikes). You may leave the discussion energized and ready to tackle something new. – Happy marketing!
You might also like: